ABOUT
Shanin Ybarrondo has been in the marketing game since she was a teenager — literally since high school. While her peers were trying out for sports teams or student government, Shanin was out selling school newspaper sponsorships to area businesses, conveying value to potential customers and in the process, learning about graphic design, key marketing strategies and the importance of building relationships. She took her experience pedaling the Ygnacio High """.. to the business world shortly after graduation, working as a graphic artist for the Contra Costa Times and in a satellite office of the New York Times assisting the sales teams.
Her early experience also included organizing incentives and parties for employee contest winners which opened a window into event planning. From showers, to weddings to trade shows. She expanded her experience in offset printing to screen printing which opened her eyes to a new avenue of promotional marketing. Soon she realized she could do the most varied and fulfilling work by working for herself.
Shanin balanced her life as a single parent with entrepreneur with "Anything's Printable." As the name implies, she worked as a broker providing clients with tools to market themselves successfully. Along the way, she developed a sense of where a business could best utilize its marketing dollars.
She spent a decade designing and brokering business cards, pens, t shirts and everything in between and then one day she designed a t-shirt for a women's wine trip. That particular design marked a turning point in her career. Throughout the trip she was stopped time and time again by strangers asking where they could buy the shirt and as a result Wild Women on Wine was born. Wild Women on Wine, a non- profit 501c7 began a decade of both retail and wholesale business acumen. The company provided a "wine party in a box" and sold the standard items including the popular t-shirts but also created events, participated in wine shows across the country and set up memberships worldwide. In 2008 the business venture ended and Shanin returned to school to earn a business degree from Sierra College.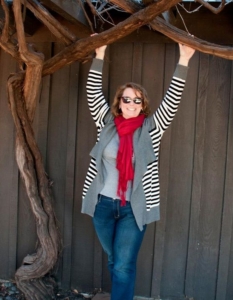 Ybarrondo also connected with one of her former customers, ZAP, the largest single varietal wine tasting in the world which reinforced her experiences in event planning (a four-day event that welcomes some 10,000 attendees) but took her away from home a little bit too often. When she had the opportunity to return to the area full time, she took it and began working at Sierra Nevada Memorial Hospital Foundation, first as their event planner and later as their development director. That experience gave her an even great understanding of non-profits, the value of sponsorships, employee satisfaction and her love of marketing.
Shanin is proud to own Immersion Marketing which takes each of her talents and challenges her to continue to strive to do the best work for each of her clients – one relationship at a time.
Call Shanin at 530.913.2334
and put her to work for you!